A home purchase is a big investment. In fact, it's one of the largest investments you'll ever make. If you are looking to buy a home, the first item on your agenda is to find the right agent to help you.
You don't want to work with just any agent. You want to hire an agent that has excellent knowledge of the area in which you are looking to buy a home. You don't want to use a Greenville real estate agent if you're shopping in Anderson.
Your agent should know the different styles of homes in the area, and which ones will best serve your needs and affordability. Your agent should also know the market and prices in the area.
Finally, it's in your best interest to hire an exclusive buyer's agent to represent you.
Exclusive Buyer's Agent
Buyer's Agency describes the relationship between a real estate agent and the buyer being represented.
There are laws and rules that govern this relationship. These laws and rules may vary by state; however, the main idea is the same.
A buyer's agent will exclusively represent you and not the seller. An exclusive buyer's agent will put your best interests ahead of everyone else's, including their own interests.
This doesn't mean that you can't use the same realtor when you are buying a new home and selling the old one. Since those are two separate transactions, there is no conflict.
Exclusive Buyer's Agency Agreement
Your buyer's agent may have you sign an Exclusive Buyer's Agency Agreement. This will outline the duties they will perform for you. It will be signed by all parties and will become an enforceable contract between you.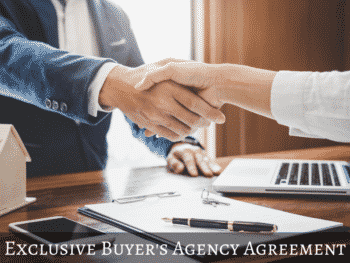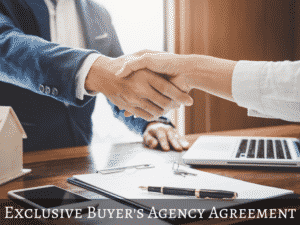 The agreement must have your name on it, the name of the company the buyer's agent is affiliated with, the end date of the agreement and the fee or commission that must be paid, and how and when it is due.
Most of the time, the seller pays a set amount of commission to their brokerage company, which is then split with the buyer's brokerage company. That's how your buyer's agent usually gets paid.
If for some reason, your agent's brokerage isn't getting paid by the seller's brokerage, there will be a fee charged to you. After all, your agent shouldn't be expected to work for free.
Buyer's Agent's Duties
Your buyer's agent will have duties that must be performed per the agreement. These duties usually include:
Performing the brokerage agreement terms.

Seeking a transaction price that meets your needs.

Presenting your offer in a timely manner

Disclosing material information that should be known to you (such as material defects in the property you are interested in.)

Accounting for the earnest money you give to be put in escrow until closing.

Obeying lawful instructions you give.

Acting in a timely manner that promotes your best interests.

Exercising reasonable skill and care when performing brokerage services for you.

Keeping your confidential information confidential.

Complying with all other aspects of their state's real estate license law.
Conflict of Dual-Agency
One of the best reasons for having an exclusive buyer's agent is to avoid dual agency.
Dual agency occurs when the same agent represents both the buyer and the seller in a transaction. This usually happens when a buyer contacts the listing agent of a property he is interested in, and a relationship is developed.
Sometimes it's just pure coincidence that the agent you are working for gets a listing that meets all of your wants and needs in a home.
Dual agency does require written consent from both the buyer and the seller. This truly isn't the best situation to be in. Even though the dual agent cannot disclose confidential information about either client to the other client, it's simply impossible to be completely loyal to both clients.
An exclusive buyer's agent is completely loyal to you as his buyer. It's worth noting that because of these potential conflicts, dual agency is illegal in some states.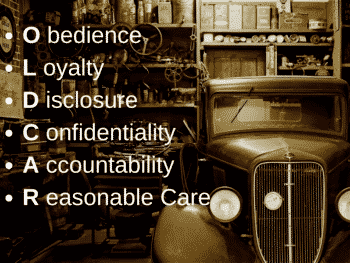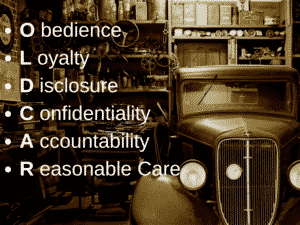 The Acronym: OLD CAR
Your exclusive buyer's agent will have fiduciary duties to you. The acronym OLD CAR sums them up:
Obedience

Loyalty

Disclosure

Confidentiality

Accountability

Reasonable Care
Seller's Market
The real estate market is hot in many areas of the country right now. The inventory of available homes for sale is extremely low. In fact, it's historically low.
When a house that meets your criteria comes on the market in your price range, you have to move fast. This may be a lot to take in if you are buying your first home. You can trust an exclusive buyer's agent to show you the home quickly.
He will put together a market analysis for you to make sure you aren't offering or paying too much for the home. He will write an offer to purchase the home, on your behalf. A buyer's agent has negotiating experience to get you the best price and terms.