In a 2018 article published in The Washington Post, writer Dina Mishev had this to say about Greenville, South Carolina: "Residents of this aging Southern mill town knew it still had life in it. It took decades of hard work, but today it surprises visitors with its low-key culture and high-wattage charm." How observant she was!
Greenville, South Carolina, nestled in the foothills of the Blue Ridge Mountains and known as the "Textile Capital of the World", is the sixth largest city in South Carolina. Located on what was originally Cherokee land, Greenville started out in 1768 as a grist mill and trading post at the foot of the Reed River Falls. The area was eventually surrendered to South Carolina by the Cherokee nation, where it remained undeveloped until the military expanded the area during World War I. 
Today, due in large part to an influx of manufacturing jobs, the former textile powerhouse has been transformed into a dynamic metropolis. The revitalized downtown serves as the focal point of the region, attracting new businesses, hosting an emerging culinary scene (named one of "The South's Tastiest Towns" by Southern Living magazine), and housing what some call the crown jewel of Greenville: Falls Park on the Reedy, a 26-acre city park. And if this were not enough, local trails, and parks like Lake Conestee Nature Park, Glower Estates Park, and Cleveland Park, all give runners, hikers, and families a natural escape from the bustle of the city. 
Also thriving is Greenville's art scene. Artisphere, a three-day outdoor event held each spring, brings in international artists. This event has received regional and national acclaim and gives residents a chance to meet artists face-to-face as well as shop for one-of-a-kind artwork. Additionally, the Peace Center, a performing arts center, which includes an amphitheater, ample concert hall, theater, and events spaces, regularly brings in top Broadway hits and symphony orchestra concerts.
Having an in-depth knowledge about luxury living in Greenville is just one of the ways how a buyer's agent can help you learn and make a decision about where to buy your next home.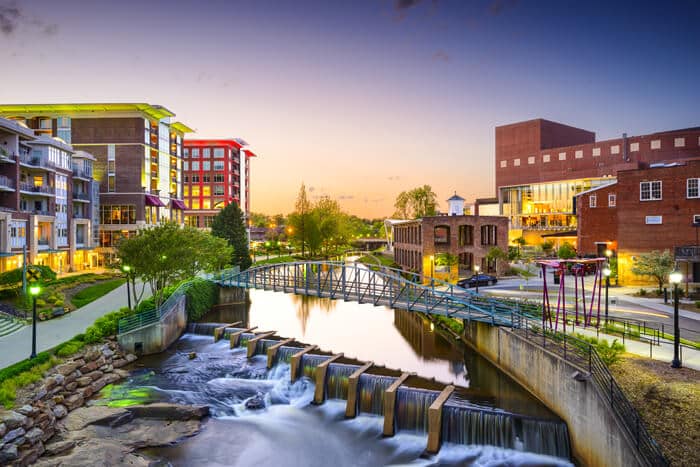 The Luxury Home Market in Greenville, SC
Luxury Homes in Downtown Greenville, South Carolina
Livability has recently ranked downtown Greenville as one of the "Top 10 Best Downtowns" in the country, and The New York Times called Greenville "a national model for a pedestrian-friendly city center." With wide sidewalks, outdoor plazas, and street-side dining, downtown Greenville offers a pedestrian-friendly atmosphere that has been compared to that of a European city. 
As a result, Greenville now has a strong 3,000 to 4,000-person downtown residential sector. Consequently, the downtown Greenville residential real estate market is booming, offering luxury condos, apartments, and lofts, as well as luxury single family homes for sale. 
These luxury condos and apartments in Greenville offer upscale living in addition to the many amenities that we all love; amenities such as swimming pools, fitness centers, rooftop terraces, covered parking, concierge services, doormen, and so much more! 
In addition, there are many luxury single family homes in the downtown area, and they too offer conveniences such as proximity to downtown, gated communities, seclusion and privacy, private tennis courts, bocce courts, playgrounds, parks, putting greens, shopping and so much more!
When you think about all there is to love about downtown Greenville, it is exciting to know that it can all be enjoyed from the comfort and elegance of your luxury home!

Luxury Neighborhoods in Greenville, South Carolina
Neighborhoods in Greenville boast a variety of architectural options, such as Victorian, Italian, Georgian, Greek Revival, Modern, Craftsman, Bungalow-style homes, and many more.  When searching for any style of homes for sale in Greenville, you will quickly find that there are several scenic, luxury neighborhoods offering tight-knit communities, quality schools, and stunning homes. 
These luxury neighborhoods also provide historic charm, privacy, and family-oriented activities, allowing residents to enjoy an unmatched, grand Southern living experience. You will also find some of the most diverse, as well as handsome structures, in addition to large historic homes, lush parks, small business districts, and plenty of community events. 
And that is not all. You will enjoy unique shopping districts, superb schools, pet-friendly neighborhoods, and scenic outdoor activities such as basketball courts, lighted softball fields, playgrounds, tennis courts, golf courses, walking trails, and swimming pools, just to name a few. 
In addition, many offer first-rate restaurants, bistros, bakeries, coffee shops, retail shops, and boutiques, as well as other amenities, such as health care and hospitals. What is not to love!
Greenville, South Carolina Real Estate
There are so many great reasons to call Greenville, South Carolina home. It is a city characterized by its unique charm and energetic spirit. If you are looking for a vibrant nightlife, downtown Greenville has everything to offer those looking for luxury living options, from shopping to fine dining to live music and festivals. Day or night, Greenville always has something exciting going on. Another of the many perks of life in Greenville is that it is well-connected to the surrounding states. You are just a few hours away from the East Coast and its many beautiful beaches, great eateries, and quaint mountain towns.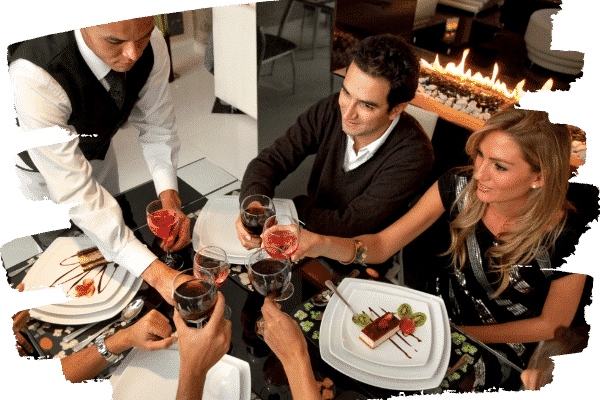 The city of Greenville, South Carolina has so much to offer residents searching for luxury homes options, encompassing luxury living at its best. Included in that search is great food, a bicycle-friendly and pedestrian atmosphere, colorful cultural events, and a friendly populace, all with a progressive, yet small city vibe. 
Greenville, South Carolina offers a variety of living options.  No matter where you travel, you will discover that Greenville is a place where restoration and growth dovetail with Southern traditions, American history, abundant natural attractions, and luxury living at its best!
So come and spend a little time where people love where they live and love to share that with guests. Savor a moment. Create a memory – or two. Make it a weekend or a week to remember. Better yet, make it a place you will be happy to call home.  
Greenville is a beautiful, charming city, with a stress-free feel and plenty to see and do. So, whether you are looking for a luxury single family home, condo, apartment, or loft, Greenville is truly a great place to call home!