Having a Buyer's Agent or Visit Opens Houses Alone?
There is something magical about stepping through an open house and imagining your future life in a new-home candidate. Smelling the freshly polished floor and freshly painted walls brings a feeling of 'newness' that is hard to rival. It's a romantic part of house-hunting for a new home that many buyers look forward to and enjoy immensely. 
However, the question many home buyers find themselves asking is whether open-houses are sufficient or if the help of a buyer's agent is worth the partnership. What is the difference between touring open houses and working with a hand-picked home inventory from your buyer's agent? The fact is that a buyer's real estate agent does a lot more than schedule tours, though you still maintain the joy of touring fresh homes available on the market. Let's dive into the true differences between house-hunting solo and with the aid of a buyer's agent and their hand-picked properties.
Seeing the Big Picture in Your Home Search
When you first start working with a buyer's agent, they will ask for your list of priorities, must-haves, and deal-breakers. Instead of just looking at all homes for sale in Greenville, they will ask if you need a home with a yard, or want to avoid homes near a noisy road? Would you absolutely love a soaking tub or entertainer kitchen? Would you reject any home with less than three bedrooms, or only consider homes with an open floorplan?
When you have you're own buyer's agent, they work for you and their main concern is finding you the property you desire. You could just say, "I'm interested in luxury living in Greenville." Then your real estate agent would use their knowledge of the area and resources to find something to suit your needs.
The primary benefit of a buyer's agent is that they keep your entire checklist in mind, looking at the big picture with every home they might recommend to you. Unlike touring nearby open houses, your buyer's agent will find undermarketed gems that fit your needs and save you the effort of discarding homes that have features outside your preferences. They can also help to keep your home search focused, ensuring you only spend your time considering real candidates for purchase.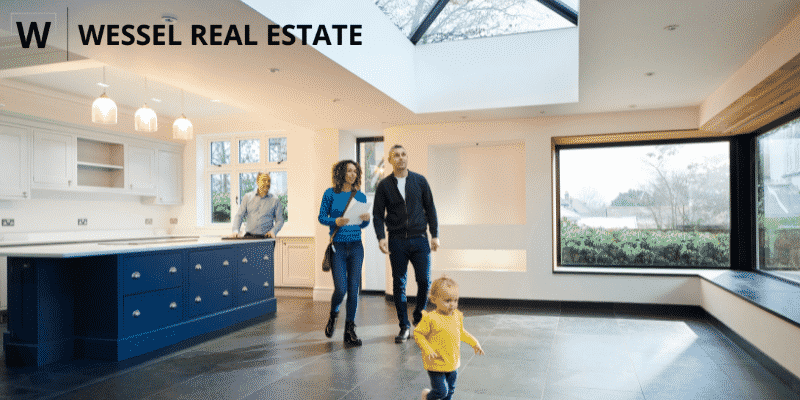 Touring the Best Houses for Your Priorities
Of course, you still get all the joy of touring staged and empty houses on the market. If you love the experience of touring a home as you consider its features and welcoming nature, working with an agent hardly limits your opportunities to tour. In fact, you may tour even more properties than the open-house method because a buyer's agent knows how to contact sellers and open doors. For private tours of homes with a high potential for being perfect, a buyer's agent is your ideal house-hunting partner.
Greater Access to Properties Without Open-Houses and Tours
Open houses are a great way to get started, forming your idea of what kind of houses are on the market and giving you some reference points for what you would like or dislike in a home. Every buyer should tour a few open houses to get a feel for their house-hunting priorities. But after that point, you may find that open-house inventory is limited.
Only a few sellers today even schedule open houses or allow their seller's agents to hold open-house events. This means only a fraction of homes on the market are available to tour in the open-house fashion. If you want full access to the local home market and the opportunity for private tours beyond what is available for open house events, your buyer's agent will open those doors. That's one of the big advantages of using a buyer's agent.
Real estate agents actually have even greater access to homes on the market than even the public market makes available. Through the MLS and other internal real estate channels, they may know of homes that are perfect for your search but not yet publicly listed that you can tour.
Point for Point Comparison of Properties
When walking through a home tour, it's easy to get swept away in the beauty, welcoming nature, and appealing features of each individual property. But with their view of the big-picture, a buyer's agent can help you more accurately compare the pros and cons of an entire stack of tempting home properties.
They can lay out a fan of home profiles, pointing out that this one has more floor space but a smaller kitchen, while that one has a welcoming backyard but a lower ratio of bathrooms to bedrooms. This point-for-point property comparison can help you make decisions based on your long-term values and happiness, not just how much you personally like a home when walking through it.
A point-for-point comparison of properties can also clarify which among several favorite homes is the most worthy of your first bid.
Quickly Excluding Properties that Feature Deal-Breakers
A buyer's agent also saves you time by removing properties from consideration when there's a deal-breaker present. First and foremost, they can help you avoid homes that are above your price range to protect you from falling in love with a property that isn't a wise final choice. More precisely, your buyer's agent can help you quickly identify and discard properties that have features (or lack features) that would cause you to eventually reject them.
If you said you absolutely must have a yard for the dogs, they'll help you quickly exclude any home with a mere fenced patio. If you can't manage stairs, they'll ensure homes with staircases never wind up in your portfolio. If you absolutely must have modern wiring for your home office, your buyer's agent will exclude homes that haven't been wired since the 1970s. This saves you time considering unacceptable homes and prevents you from being tempted by homes that will eventually fail to meet your needs.
Discern Patterns in Homes You Love and Finding Similar Options
One unique talent of a good buyer's agent is seeing patterns in what you like and dislike – beyond your own realization. Maybe your top-five homes all have warm farmhouse-style kitchens, or bay windows are your secret unrealized weakness and you always find them beautiful. When noticing these patterns, your buyer's agent can then prioritize the best-qualified homes and even expand their search to show you homes that you'll love for the same reasons – the right kitchen, a similar floorplan, or with features you adore every time they appear in other homes.
With this method, your dream home might appear in the portfolio and be spotlighted based on things you love that only your buyer's agent has noticed.
Thinking Outside the Box to Find Your Dream Home
Finally, buyer's agents can think outside the box (and outside the inventory of open houses) in finding your dream home. They might find the perfect house a little further from downtown than you expected, or they might find the right number of bedrooms and a charming floorplan in an architectural style you hadn't considered.
Buyer's agents have seen hundreds of happy buyer-and-home pairings and can often escape the expectations of buyer-beginners in where to find the perfect property. Maybe you'll fall in love with a condo above a busy shop more than once in a luxury condo building. Or perhaps your dream home is at the end of a cul-de-sac in a brand new neighborhood yet to build a reputation. A creative buyer's agent will sometimes show you homes that are outside your expectations, but perfectly fit your style and priorities to be worthy of consideration.
Should You Tour Open Houses Alone or Partner with a Buyer's Agent?
So should new home buyers tour open houses or trust their home search to the expertise of a buyer's agent? The simple answer is that you can and should do both! Start with open houses to get a feel for your neighborhood and what you want to see in homes you tour during your in-depth house hunt, but remember to see open house events as just skimming the surface.
When you have a solid list of preferences, must-haves, and deal-breakers, partnering with a buyer's agent can both expand your inventory of potential properties and help narrow the search only to homes that fit your needs and style. When you're house-hunting in earnest, a buyer's agent is your ideal partner in finding ideal properties, from those only listed for private tours to properties you love but would have never considered on your own.