Trying to Time the Market
Good morning folks!  Well, I've been telling you for years and you wouldn't listen.  Just kidding, most of you did but a few always wanted to try and time the market. You know, always guessing as to if it was the "right time to buy".
Hey guess, what, it's the perfect storm now.…Before I get into it, let me congratulate a couple of recent buyers who just closed on some homes in areas that are particularly difficult to buy in now.
Buyer's Success Story
I closed one yesterday with some first time buyers in Overbrook.   I closed another about 7 months ago in Overbrook too.  Now why in the world is Overbrook so difficult to buy in?  Hey, don't let the cat out of the bag, IT'S 5 MINUTES FROM DOWNTOWN GREENVILLE!  And for the most part, it's pretty reasonable.  But let me tell you, the one 7 months ago, we were the first showing.  And when I got there I told my buyers that they need to write the offer right then.  They did and luckily we beat out the other 4 offers on the home. 

My first time home buyers that closed yesterday were just fortunate.  We too got out early and made the first offer.  Although we weren't up against multiple offers if they would have waited a day it would have been gone.  Now let's talk about the perfect storm.
Current Greenville Market
There are a lot of buyers in the market and good inventory is extremely tight.  It's basic supply and demand and demand is creating multiple offer situations and homes going under contract hours after being put on the market.  So what's my advice you ask?  So glad you asked….
First, for the hundreds of you fortunate to be out ahead of this market and that have already closed with me, congrats!  For those of you trying to buy…. get a good exclusive buyer's agent on your side.  I know one…  Frankly there is a lot of stuff I just wouldn't have for what sellers are asking.  Especially if you not from the area, how do you know where the real value is? 
I'm here to help, let me know!
PS- Hopefully Spring will bring more good inventory…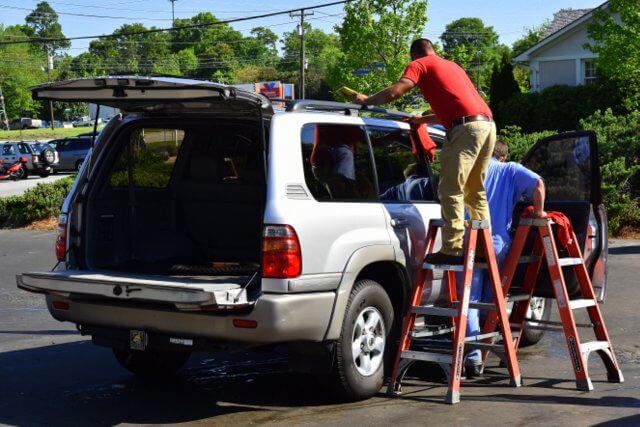 Great day to get your car washed!  Gonna be in 70s!