2016 Greenville Home Sale Data
Good morning folks and a Very Happy New!  I want to fill you in on year end real estate sales for Greenville SC in 2016.  2016 was my best year since I've been a realtor.  Well let's get to it!
Sales figures are for the entire Greenville SC MLS and I'll be comparing 2016 to 2017 for single family residential properties $100,000 and up.
Total Sales 2016: 10,779 up

12.2%

Average Days on The Market 2016: 61 down

21%

Average Sold Price 2016: $231,612 up less than

1%

Sales Volume for 2016: $2,496,546,691 up

13.2%
So, what does this mean?  The big thing I'd look at is total sales volume for the Greenville MLS.  13.2% is strong and this has been growing for a number of consecutive years.  Average sold price is slightly up but you have to understand that this number is hard to evaluate without really looking into the market.  This number contains a lot of outlying areas.  If I was only looking at Greenville Co. it would be higher and the closer you get to downtown Greenville the higher the percentage would be.
View Current Closed Home Sale Data
Real Estate Market Forecast 2017
I'm a little surprised at days on the market, things are moving much faster than I expected as this number used to be around 100 days just a few years ago.  What do I expect for 2017?
Sales volume should continue to rise.  I expect pricing to continue to rise for a number of reasons particularly in the downtown Greenville area.  First, because of location, location and location.  Second because of the increase in expensive luxury homes for sale in Greenville being built.  The good news for people relocating to Greenville is there is an abundance of new construction going on with reasonable pricing on a per sq. foot basis.  I'm putting a nice new build under contract this afternoon that I think is really quite a value.
Greenville is still booming so if you are interested in relocating or just talking over a cup of coffee downtown, please give me a call and get an exclusive buyer's agent on your side!  Hey, just got a text from my sister noting a story from the NY Times "52 Place Worth Visiting This Year?"  Greenville at #12!
Better get ready for the snow!!! Ya'll get to grocery store!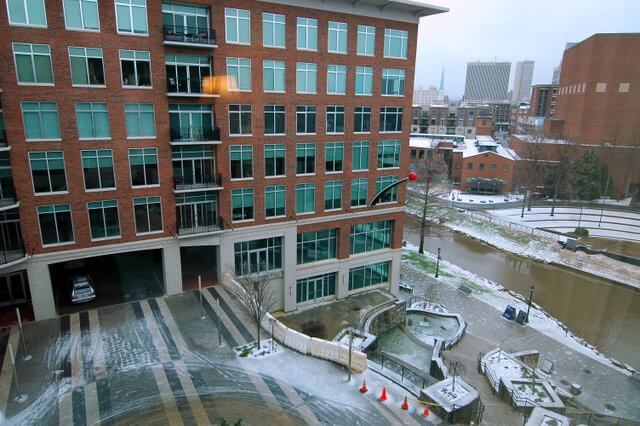 Downtown Greenville January 2010!  Yes, it does snow here.