Exclusive Buyer's Agent
Well I finally got a day off and remembered I hadn't updated my real estate blog in a while!  Have I been busy?  Are you kidding me?  More and more buyers in the market in Greenville and hey I'm an exclusive buyer's agent and that's what I do.
With articles like this one from the Chicago Trib appearing, no wonder I'm busy.  As a matter of fact, I just finished up with a very nice couple who are originally from Chicago.  I find mid-westerners to be so nice.  We toured some great homes for sale in the Greenville area and they are returning home and considering an offer!
Successful Buyers
I'd like to take a minute to write about some wonderful buyers I've worked with over the past few months and the homes they bought!
I'll start off with a first time homebuyer and all around great young man who bought a townhome in downtown Greenville.  When it came on the market we were the first showing and I told him he needed to immediately write an offer because it was underpriced.  We did and that day multiple offers rolled in.  We raised our offer $6,000 above list and he got it.  No get this, it appraised for $18,000 over the price he paid for it! Notice the smile on his face!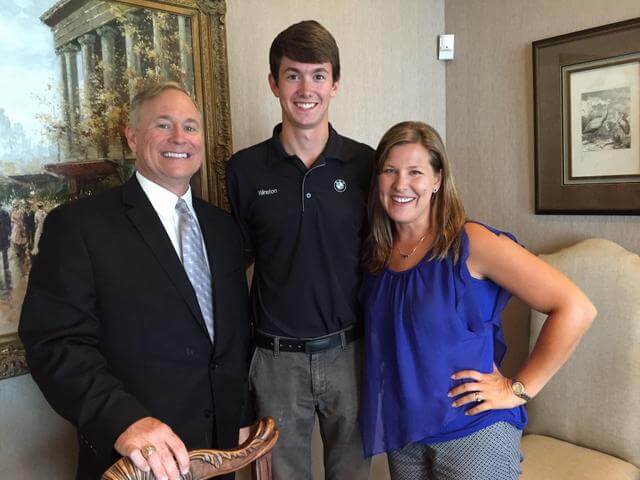 I was unable to attend the closing but he was well taken care of.
Next great homebuyers are from the Denver area.  They wanted to relocate to be close to their daughter and grandchild and needed some acreage for horses.  We located 42 acres in a nice equestrian neighborhood in Abbeville South Carolina. They just moved in about a week ago and are tickled.
Next awesome homebuyers were from the Asheville area.  They love to visit downtown Greenville and take in a broadway show or have a nice dinner!  So they decided to buy a second home at the Lofts at Mills Mill.  Now they have a great place to stay in downtown Greenville and a getaway from Asheville!
Diverse Properties, Diverse Buyers
So, why did I pick these three home buyers to write about.  I wanted to illustrate just how diversified my business is but with a common thread….  First time homebuyer, equestrian buyers and buyers seeking a downtown Condo!  The common thread is that they all wanted to be represented fairly and have someone working in their best interest.
Folks, buying real estate is a process. Once I understood  the principles of exclusive buyer agency I was able to apply that to all different types of properties.  Horse, condos in downtown Greenville, first time home buyers, and the list goes on.
On a side note, I just got a call from the listing team on the home that my people from Chicago are considering. They have multiple offers on the home.  I told my buyers yesterday that they shouldn't tarry…
If I tell you that you might want to make an offer on a home,  you really should.
Folks, I hope you have a great weekend and please call or email me if you need someone on your side!