My Pledge To You
Whether you are a first time home buyer or on your 17th home (a true case), I pledge to you that I will do my best to help you purchase a home in Greenville or the surrounding area with your best interest in mind. I will give you honest opinions based on my knowledge of the area so that you can make good decisions.
I'll assist with your inspections, help you select a closing attorney and be there all the way with you to closing. It doesn't matter to me if you are looking to spend $80,000 or over $1,000,000. I will do all I can to help you make a good decision on one of the most important purchases of your life… buying a home.
If you are interested in Downtown Greenville SC City Real Estate or Simpsonville, Greer, Taylors, Travelers Rest or anywhere in Greenville County, I can help and I have. If you want to go to Spartanburg, Pickens or Anderson Counties, I've done that too. I've seen thousands and thousands of homes and helped with the purchase of hundreds. I determine value not only based on the neighborhood comps but on all the homes I've seen throughout the years…folks, there's more to it than Zillow if it wasn't I'd be out of business.
How to Select an Agent
Buying a new home is one of the most important events in a person's life. It is a commitment that may well last a lifetime. A home is more than just walls and a roof; it is an integral part of your family, an extension of who you are.
When purchasing that home in Greenville, SC one of the most important steps is to select the right agent. Greenville, SC realtors come in many forms, but as a buyer, an exclusive buyer's agent might be the way to go.
What is an Exclusive Buyer's Agent?
An exclusive buyer's agent works exclusively for the buyer. They do not list a property for sale. Instead, they spend all of their time and effort in the search for the perfect home for your family. This means there is never a conflict of interest that might arise when a realtor has a vested interest in whether or not a specific property sells.
Because an exclusive buyer's agent does not list homes, all properties are equal players on the real estate field. This opens up even more possibilities for the new homeowner. Also, there is never a fee to the home buyer when using a buyer's agent.
What a Buyer's Agent Does for the New Homeowner
Show property – a buyer's agent shows hundreds of homes a year giving them a good handle on what is available and which neighborhoods are up and coming or on the downturn. They know the school districts and which neighborhoods are best for the needs of the buyer.
Assist with the offer,  contract, and negotiations – once you find the perfect home, a buyer's agent will help you get it for the price you want. Keep in mind, that a seller has someone on their side working for them. It always comes in handy to have someone on your side with your best interests at heart.
Help with inspectors – a buyer's agent will be your go-between with home inspectors.
When looking at the selection of Greenville, SC Realtors keep an exclusive buyer's agent in mind. Find an agent that has lived and worked in the city of Greenville and the surrounding communities for an extended period of time. A Greenville, SC realtor that knows the area will understand the neighborhoods and have the personal and business connections with local banks, inspectors, and contractors that will make your experience just that much easier. And remember an exclusive buyer's agent does not list any homes.
---
2020 Update
Well, it's been a while since I've done an update so I thought it would be time!  Your are probably wondering why.  Folks, that's easy.  The Greenville Real Estate Market over the last 4 years has been on fire!  I touched on this back in 2016 in my blog post The Crazy State of Real Estate in Greenville SC.  If I thought it was crazy back then little did I know what was coming.
My sales have grown steadily since 2015 and peaked over the last two years.  That's great!  But you know what's even better?  I've had the opportunity to assist more buyers and make an impact on their lives.  Folks, I help people from all over the country and all over the world.  In 2019 I helped numerous first time home buyers, equestrian buyers, condo and townhome buyers, single family purchasers in Greenville, Spartanburg and Pickens Counties!
From modest homes to extravagant condos, I've been there to help and assist.  Hey, that's what I do!  Being an Exclusive Buyer's Agent for most of my career has been the most rewarding path I could have chosen.  I'm truly blessed not because of what I make or have, but all the people I have helped!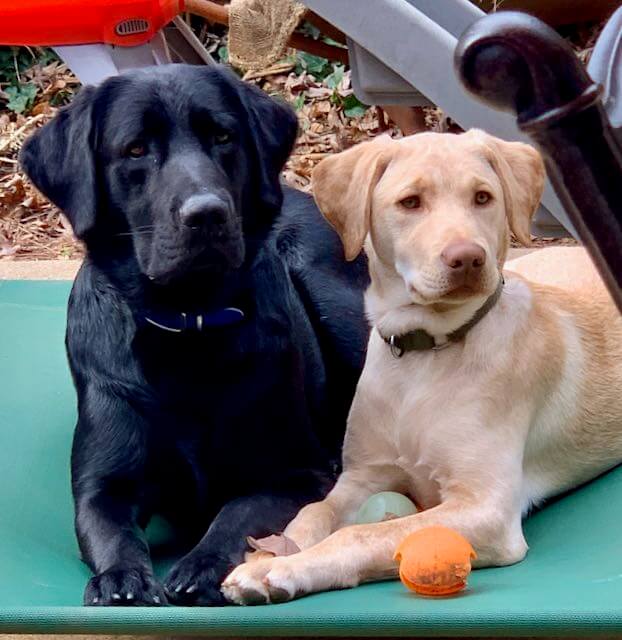 Ruger and Duke!
Here's to the coming years!  Please call me, all buyers need someone on their side!  864-335-8490
2015 Update
I had my best last year in 2014.  Once again, strictly helping buyers from all over the country and Greenville.  I'd say I helped at least 10 first time home buyers and that is very rewarding.  I helped a very nice couple from up north buy a home sight unseen.  Hey, I was a little nervous on this one but with my due diligence, everything work out great!  And they got one of the nicest views in Greenville for the money on Paris Mt!
So, let's talk about realtors in Greenville for 2015.  OH MY GOSH!  I just checked the membership roster for the Greater Greenville Association of Realtors and it's 4,509!!!  I haven't looked at this since 2012 and I'm about to fall out.  If you go back and look, I believe there were 2,400 Realtors in Greenville SC in 08.  Then it dropped, and now it's back to a whopping 4,000+.  Why is this happening, well everyone wants to make a buck.
Folks, I've got realtors calling me from Michigan interested in coming to work here!  Now what does this mean to you.  Well, if you take the luck of the draw you just may end up with a realtor who knows nothing about Greenville South Carolina!!!!!!  I've been here 30 years, I know the area and the nuances.  I am an exclusive buyer's agent, I work for you.  I don't list any homes!  I understand value.  Please be careful who you choose.  Call me 864-335-8490 or email me at donwessel@gmail.com.  Again, WOW,  I just can't believe it.
2012 Update
Hi everyone! I'm looking forward to 2012. Had another good year helping people from all around the country relocate to Greenville SC! A lot of these folks were retirees but I also helped quite a number of first time home buyers too.
I helped a number of folks located in the area too that were renting and trying to decide on the right area and the right home. As an Exclusive Buyers Agent, I work in your best interest. I don't have any listings or areas I am trying to push on you. I try and help you find the best home in the best location for the lowest price. I love what I do and have been a Greenville SC Realtor for 10 years and an Exclusive Buyers Agent for most of those years.
I've helped over 275 buyers locate homes in Greenville and the surrounding area. It's a good feeling folks, helping a family find a nice place that they can call home. A few nice comments regarding my work are here and here .
There is NO Charge for My Services, why wouldn't you have a Buyers Agent on Your Side?
Hi everyone and welcome to my Greenville SC Buyers Agent page. I'm Don Wessel a Greenville South Carolina Realtor specializing as an exclusive buyers agent. I've been specializing as a buyers agent for many years now and I usually update these pages yearly. 2010 was a very good year for me. That may seem strange to you since our volume in Greenville was off about a third from the previous year. And look at the volume around the country. Real Estate is down everywhere! So why is my business up? People, especially those relocating to the Greenville South Carolina area are seeing the tremendous value of having someone on their side. Nothing beats a realtor who is a long time Greenville resident, who knows the area and specializes as an exclusive buyers agent. There are a lot of Greenville SC Realtors! Get the best!
Currently there are around 1300 Greenville SC Realtors in the Upstate! Choose an experienced realtor who is an exclusive buyers agent!
Let's say you are looking for Greenville SC Real Estate or for that matter, real estate anywhere in the Greenville area, Taylors, Simpsonville, Greer, etc., so how do you decide? How do you decide if there is value in the home? Who do you contact for the preapproval? Who do you choose to close the transaction and do the title work? Who do you hire for the home inspections, the termite inspections, roof, radon, etc? I mean who do you??? How do you know what to offer? Who do you trust writing the offer and working the contract?
Well do you hire the listing agent who is working for the seller to be your guardian? Of course not, why would you? Do you hire a Greenville SC Realtor who is not an exclusive buyers agent? Well, of course not. This is a specialized business folks, you need someone who lives and breathes buyer agency. You don't need a jack of all trades. You don't need a listing agent who just happened to show you one of their listings and you didn't like it and now all the sudden they want to be your Greenville SC Buyers Agent!
I love what I do, helping nice families from the Greenville area and all over the country find a great home at a good value. I'm just a phone call away at 864-335-8490. Call me, I'm never short of opinions :-)!
I've been specializing as an exclusive buyers agent in the Greenville South Carolina area for many years. When I started my career, I did what most realtors do. I listed homes, advertised them in the local real estate books and picked up buyers from the calls on homes that I had listed. The more I started working with buyers the more I enjoyed my career.
I eventually moved completely away from taking listings. I got my ABR designation and really started to focus on how I could improve my service to buyers only in Upstate SC. One of the ways I found to improve my services was to build an informative web site to assist buyers in learning about the Greenville, Simpsonville, Greer, Taylors and surrounding Upstate areas.
I've combined that desire to assist buyers with my passion for photography to hopefully give you an idea of what Greenville is like.
Did you know:
I am paid by the transaction, no charge to you.
As a buyer client, I have a fiduciary duty to you to provide Confidentiality, Loyalty, Obedience, Reasonable Care and Diligence, Full Disclosure & Accountability.
I am bound to represent your interests above all others, including my own.
As a buyer client you are in more control of the transaction, me and the time period for representation.
As a buyer client you will have more access to seeing more homes.
As I mentioned on my front page, I've helped more than a hundred and fifty clients buy homes and land in the area over the years…….people from all walks of life, from Fluor Daniel to Greenville Hospital System, Lowes to Victoria's Secrets, vets, doctors, realtors, lawyers, theater managers, teachers, first time home buyers, experienced investors, just a lot of good people. A few testimonials are located Testimonials
If there is any way I may assist you please call me at 864-335-8490. I've helped buyers from all over the country and I'm looking forward to helping you find that beautiful Carolina Home! And remember, an exclusive buyer's agent does not list any homes.
Don
2008 Update
There are many Realtors in Greenville now. Actually I've been told there are over 2400! That's a staggering 400% increase over the last 7 years. Why? Greenville is a very popular place. The downtown is unique. Housing prices are relatively low and taxes are very low. This among other things has combined to make the real estate market in Greenville brisk even as other areas of the country like Florida have slowed. Greenville finished 2007 at just about the same pace as 2006 while the rest of the country with the mortgage mess really slowed.
I specialize as a realtor and buyer's agent. I have also been in Greenville for most of my life. But with the good market in Greenville my profession has become flooded with new people from here and from other areas of the country jumping in. It amazes me that whenever I ride by the Wyatt Institute for Real Estate on I385, the parking lot is always full! People see a way to make a buck and thus the rise in realtors in Greenville County.
Now don't for a minute think that everyone is making a great living. Our field probably has the most turnover of any sales job around. That's why it's very important for you to choose your realtors very carefully. As a matter of fact, probably many of you don't know that you don't have to be a Realtor to sell real estate!
That's right, you may be working with a real estate agent. There a huge difference! Realtors are held to a higher standard and abide by our Code of Ethics.
Now to take it a step further. Is your Realtor an Accredited Buyers Agent? Again there is a huge difference. Accredited Buyer's Agents are Realtors that have qualified for the designation by meeting criteria set by REBAC. The Real Estate Buyers Agent Council of the National Association of Realtors.
Now, one step further. Is your Accredited Buyer's Agent a relocation specialist who ONLY assists the buyer and does not list ANY homes? In my humble opinion, that is who you want to work with, especially if you are not from this area and need someone you can trust to help you make good buying decisions.
I am a graduate of Clemson University with a BS in Accounting, concentration in Finance. After years in public accounting I moved into sales and finally into Real Estate Sales..
I specialize as a buyer's agent for Beautiful Greenville South Carolina and surrounding area!
In closing, I love what I do. That is helping people find a home they love in a great area. Please call me at 864-335-8490 or email me at donwessel@gmail.com and let me know how I can assist you.
Sincerely,
Don Wessel
Exclusive Buyers Agent!
Your Greenville SC Realtor